Golden Gate Tow Inc.: we are pleased to offer car, flatbed, wheel-lift, private property, and other towing and emergency roadside services, and car storage facilities in and around San Francisco.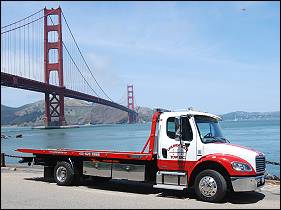 We have both wheel lift and flatbed tow trucks and all the other equipment needed for the perfect towing job. All our tow trucks come with mechanic toolboxes so that we have the flexibility to tow every type of vehicle, from all wheel drives to more exotic types of cars. No matter the distance, no matter the vehicle, Golden Gate Tow Inc.'s tow trucks will get you where you want to go in the shortest possible time.
San Francisco flatbed towing: Many manufacturers specify that their vehicles can be safely towed only on a flatbed truck.
Our 21 foot, steel bed carriers with their 4-wheel tie down system can safely immobilize pretty much any vehicle that you wish to transport, including cars, pickups, light trucks and even small utility trucks. We have found this to be a very effective way to safely transport many different types of vehicle over varying distances. With this system, the weight of the vehicle remains evenly distributed over the four wheels of the vehicle and so no part of the suspension system including shocks, ride levelers, air shocks, etc. comes under undue strain. Older towing systems that involved winch-tightened chains attached to both the front and rear of the vehicle may cause damage to sensitive computer controlled suspension systems, so beware.
Wheel Lift Towing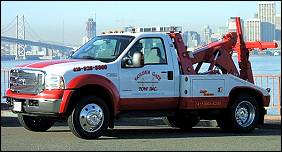 This type of tow service is most suitable for RVs and light duty trucks. We use under reach towing equipment together with straps rather than chains to hold your vehicle secure until we can get it to where you want to go.
No matter what problem you are facing when out on the road, our drivers at Golden Gate Tow Inc. will be pleased to assist. If you are driving in and around San Francisco and have run out of gas, need a jump start, got a flat tire, or a tow, or any other kind of breakdown service then don't hesitate! Call us immediately and we will come to your aid.
Roadside assistance in San Francisco is our business and it is what we are good at!